Rates:
The cottage rents for $200 per night, year round (13% Lincoln County Tax included). Two night minimum stay required for weekend bookings during high season. (April 1st through October 1st).  To add the backyard yurt, see information below.
Linens | Cleaning:
Renters are responsible for bringing their own bed linens and towels, and for cleaning the house thoroughly before leaving (or pay a $60 cleaning fee).  It takes some time to thoroughly clean the house for the next guest, so if you're not sure you want to commit to that, please choose the option of paying the cleaning fee.
Backyard Forest Yurt:
As part of our 2017 renovation, we constructed a yurt in the backyard that can serve as an additional sleeping and living space, separate from the cottage. The yurt sleeps an additional 3 people. If you rent the cottage, you may then also rent the yurt for an additional $50 per night (so $250 total per night). If you don't need it, the yurt will stay locked and your rate will remain at $200 per night. The yurt is ONLY available for people who also rent the cottage, it does not rent separately and yurt users are responsible for leaving it clean for the next folks.
Max Capacity as defined by the Lincoln County sheriff's office:
The maximum number of guests allowed is 7, if you rent both the cottage and the yurt.  If you are only renting the cottage, the maximum number of guests allowed is 4.
Availability:
Use the calendar below to check availability for the cottage. Please email or call to request your reservation (phone and email info is below). Reservations are not confirmed until a deposit has been received.
Deposit:
A deposit of one-half the rental amount is required for all reservations at the time they are confirmed.  Please contact Sally at the phone or email listed below for details. The balance of the rental amount is due two weeks before arrival at the cottage.
Cancellations:
Cancellations made 14 days prior to arrival will receive a full refund. Cancellations within 14 days of arrival are subject to a 50% cancellation fee.
Contact:
Sally M. Morris
9070 Zumwalt Road
Monmouth, OR 97361
503.507.6875
email: Sally@OtterRockRental.com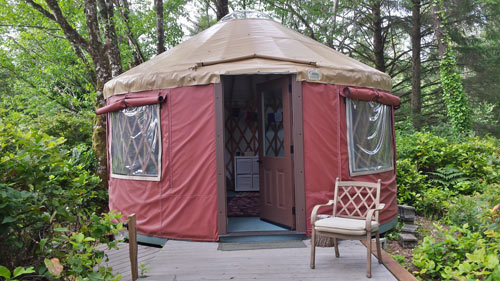 Use this calendar to check availability for the Cottage. Please note: This calendar is for informational purposes only. Available dates are subject to change. Reservations are not confirmed until a deposit has been received.